Every year it's the same.
We cut down a tree, place it in the stand, position it in the living room, string the lights and add the ornaments.
Every year it's different.
The tree changes shape and size depending on that year's selection at the farm, and the ornaments have no specific place on the tree. We also add an ornament, new since the previous year, one that commemorates some event or season of life. 
Our tree, it tells a story.
On it hangs a record of our lives, a timeline of a family.
There are the "baby's first Christmas" that make the kids react with an "awwww" and remind us of the time when our lives were all sleepless nights and diaper change
"This one is from before you were born, when it was just me," our daughter will tell our son. And then she will point out the one from his birth year.
And there are the ones in the years since that show how they've grown.
"Look at my cute little me," our son says of his picture on a handmade ornament. The yellow star bordered with glitter is a portal to another time and place. I can picture myself in front of my grandparents' Christmas tree in the house that no longer stands, adding homemade ornaments from multiple school years to the artificial branches.
There's the one from the year we got married, and the broken one from years later. We hang on to it from the year our marriage nearly broke and we took a long weekend to repair it.
There are the ones that precede our relationship, when I had my first tree in my first post-college apartment and some dear family members gave me some of their ornaments for my very own collection.
There are ones from work and church ornament exchanges, and the ones my friend from England sent us: a phone box, a double decker bus, Big Ben.
There are the ones we've added each year as our "family" ornament, reflecting a special memory from that year: from our first vacation to Cape May with friends, the Africa ornament from the year my husband and I went to Kenya, the glass-blown commemorative ornament from Williamsburg.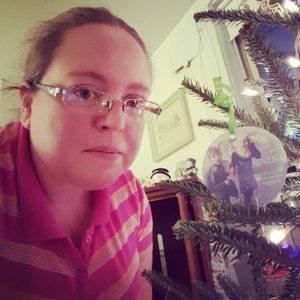 This year, I added one from Ann Voskamp, to remember the city of Aleppo in its terrible suffering. I hope I don't have to hang that one again next year because that will mean that peace has come to that city and its people.
Each one sparks a memory as we hang them on the tree, as we tell the kids stories of the ornaments' significance. They have their favorites, like the snowman head without a body they insist on keeping because they think it's hilarious.
These are the tokens of the moments that have shaped our lives, and once a year, we take the time to remember.
Our tree could look different with perfectly coordinated ornaments in a particular color scheme (and there's nothing wrong with that; sometimes I wish that's how it we did it). But what we have is a lot like our lives: a conglomeration of moments, memories and experiences that tell a story of love, faithfulness and adventure.
I wouldn't choose to have it any other way, even when it looks like a mashup of randomness.